Arizona's arid climate makes it one of the best states to hold an outdoor wedding. With clear skies, warm weather and beautiful scenery, you can plan your dream wedding at any time during the year and have a one-of-a-kind ceremony and reception.
There may be many options for holding an outdoor wedding, but they still require ample planning. With so much to do before your big day, there are some common mistakes you could potentially make.
Remember that although there may be some small setbacks in any wedding, it doesn't have to be flawless in order to be perfect for you. What matters most is being able to celebrate the most important day of your life surrounded by people you love.
By avoiding the following seven common outdoor wedding mistakes, you can focus more on what really matters and avoid unnecessary stress and setbacks.
1. Not Checking the Weather Forecast
Although Arizona enjoys mostly dry, warm weather year-round, it can rain from time to time. If there is even a slight chance of rain, it's best to have a tent or umbrellas available.
You may also be so focused on the idea of an outdoor wedding that you forget to see how hot it's going to be. When temperatures peak in Arizona, guests could find themselves sweltering under the sun. Not only does this lead to discomfort, but it also results in heavy sweating that can stain dresses and shirts and leave unsightly marks in photos.
You should always plan ahead of time to ensure that the weather forecast for your wedding day will be clear skies. Additionally, you should consider the average temperature during your wedding season.
2. Wearing Attire That is Too Heavy
Suits and dresses may look stunning on camera, but they could prove to be too heavy for the outdoors. Traipsing down the aisle in a cumbersome train, or finding yourself sweating through your tux, can put a damper on your ceremony and make your reception uncomfortable.
Make sure that you choose light fabrics that are easy to move in. You may also decide to have a change of clothes for after the ceremony; this will make it easier to dance the night away or mingle all day outdoors without overheating.
3. Not Offering Shade to Guests
Even if the weather is mild, direct sun exposure can cause discomfort. Some guests may be particularly sensitive to direct sunlight and have to risk missing your wedding to retreat indoors. Make sure that you take this into consideration as you consider the layout of your wedding.
At Garden Tuscana, we offer outdoor garden ceremonies for up to 300 guests, but we also have an indoor reception ballroom. If you choose our venue for your ceremony and reception, the garden will remain open, but guests can mingle in and outside for the duration of the wedding.
Outdoor weddings on sunny days can still benefit from umbrellas, sunglasses and tents; these allow guests to stay cool without missing any important moments.
If you are worried about how to incorporate tents into your wedding design, consider working with a professional coordinator. They can integrate beautiful shading options that naturally blend into your wedding's decor and even enhance its aesthetic.
4. Uncomfortable or Inadequate Seating
Sitting outdoors for an extended period can be rather uncomfortable, especially if the seating is not cushioned. Ensure that all of the furniture your guests will sit on has ample padding. Some attendees may have a bad back or need additional lumbar support, so consider how your chairs may affect their comfort levels throughout the wedding.
If guests are to stand during your ceremony, be sure to keep your vows short. Guests will not be comfortable standing for 30 minutes or longer, especially those who wear heels to your wedding. Make sure you are considerate of their comfort and offer plenty of seating options.
5. Overlooking Pest Control
Bugs thrive outdoors, especially during spring and summer. They may also be particularly drawn to sweat and fragrances that guests wear. If your outdoor wedding venue contains ample flowers and fauna, consider what steps must be taken to prevent bug bites and bee stings.
A venue that hosts you and your guests will likely landscape and maintain its gardens intricately; Garden Tuscana is always going above and beyond to ensure that its property is comfortable for guests. However, you may still decide to light Citronella candles or provide guests with bug spray to deter any unwanted pests during your wedding.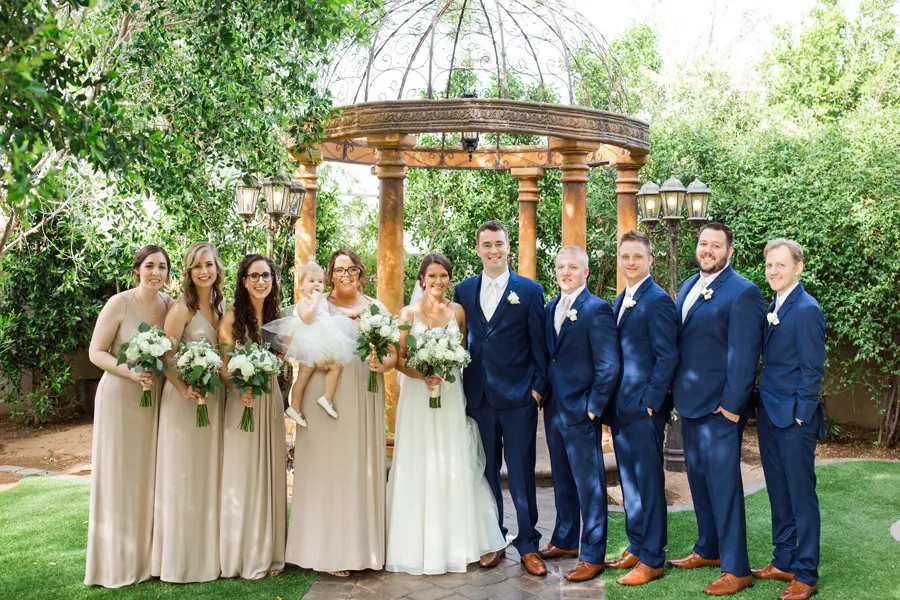 6. Making Your Wedding Inaccessible for Some Guests
While some outdoor venues are breathtaking, they are not easy for everyone to access. Your grandmother who needs a walker, or a guest who uses a wheelchair, may not find the outdoor venue as easy to access as other attendees.
You must consider how your wedding impacts every guest, not just how it looks. Before you choose an outdoor location, ask yourself:
How far will guests have to commute to attend?
After they arrive on site, how far will guests need to walk to reach the ceremony location?
Are bathrooms nearby and disability-accessible?
Is this venue safe and accessible for children?
How easy is it for guests to retreat indoors if they need shade or have to use the restroom?
Is the rest of the venue wheelchair-accessible with ramps and wide doors?
7. Temperature Affecting Hair and Makeup
Warm weather, wind, sweat and humidity can all negatively affect your wedding look. Be sure to let your stylist know how long you plan to be outside so they can use long-lasting, weather-resistant products.
You may also elect for groomsmen and your bridal party to carry paper or mini electric fans; this will help them stay cool, protect their appearance and ensure they both look and feel their best throughout your nuptials.
Make the Most Out of Your Outdoor Wedding
With enough preparation and some "just in case" alternatives, you can ensure that your outdoor wedding is a fun affair for everyone. Think about how your experience will look from your guests' perspective, and even ask what they may need to be comfortable as they attend.
Enlisting the help of a professional coordinator can make planning your outdoor wedding even easier; from setting up the venue to making important last-minute changes, they can handle everything while you center on having an unforgettable day.
Request an Accurate Quote
Please include your contact details, event date and amount of guests.
Pricing is determined by your event date and amount of guests.
Wedding packages can be customized to fit your needs and budget.
Villa Tuscana offers interest-free monthly payment plans
Office Hours
Monday: 2:00 pm – 7:00 pm
Tuesday: 11:00 am – 7:00 pm
Wednesday: 11:00 am – 7:00 pm
Thursday: 11:00 am – 7:00 pm
Friday & Saturday: 10:00 am – 2:00 pm
Sunday: Closed
Address: 1915 W Guadalupe Rd Mesa, AZ 85202

Phone: (480) 839 2727

FAX: (480) 839 2728